Today I am 20 weeks! It's hard to believe that we are half way there. I feel like a giant. I recently saw a video of me pushing a wheelchair and carrying Eden while dancing at the Sally Test Center and I looked enormous!
Baby Andy is moving around a lot more. Several times now, I have had to stop what I was doing because of how or where he was moving. It's fun for me but poor Ben is so desperate to feel him and it hasn't happened yet. The only other thing that I have really noticed is that my belly button seems to be slowly disappearing.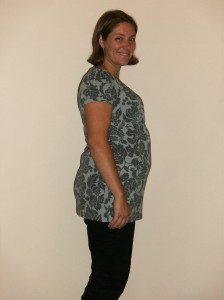 I have my first check up down here in 2 weeks and then the ultrasound to confirm that Andy is Andy the following week. We appreciate your prayers and will keep you updated!