While I was away for 3 weeks in Africa Eden had the audacity to go and grow up on me. She is now using "sentences" regularly. Meghan overheard her looking at my picture last week saying "Dada, home, please". She has started to talk in the third person and refers to herself as "Edie". If she wants me to not carry her anymore she'll say "Edie walk".
Eden loves to mimic everything we do (without being prompted). If I slap my knee, so will she. If I clap twice, so will she. If I groan loudly, so will she. Its very cute.
Eden was upset with me when I first got home yesterday. She gave me the cold shoulder for half the ride from the airport…but then for the last 10 minutes she was very talkative, wanted to show me everything, giggled uncontrollably, and wanted to hold my hand. (Andy sat on the other side of me just staring and smiling at me the whole time). Then this morning when we got up she didn't want anything to do with me. She wanted "Mama" to feed her the oatmeal, take her to the bathroom, give her juice, etc. But then 30 minutes later she was her bouncy self and was bringing me things, etc. I hope she doesn't hold this temporary grudge for too long!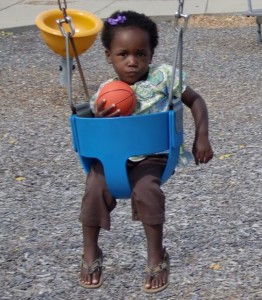 (I love this picture because it it look like Eden is trying to be cool)