Eden and I flew to Nairobi today to pick up her Humanitarian Visa at the embassy. We were in and out within 15 minutes! They don't normally do appointments on Fridays, and so I was the only one they were expecting. At each security checkpoint along the way I was asked: "Are you Mr. Wolfe?" It feels nice being a VIP…
Eden on the Fly540 flight. She LOVED flying "up up up in the air" "like a birdy" and going "up and down up and down" (turbulence). She had a lot of trouble with the concept of the us being above the clouds:
What are those white things Daddy?
Those are clouds Eden.
But they're down low.
Because we're flying above the clouds, we're way up high.
But I'm lookin down, they're down low.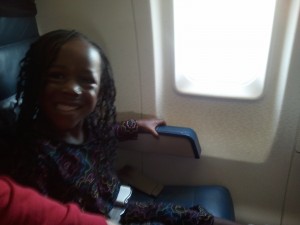 Eden was a great traveler and I lucked out with her being hyper during the should-be-nap-time instead of a terror. She fell asleep 5 minutes into our car ride home at 4:45.
She started being a three year old while we were laying over in Kisumu. She was trying to figure out why we couldn't fly straight to Eldoret and every response from me was rebutted with the same statement except "Why…" affixed to it!
Our flights back to the U.S. are scheduled for the 18th of January. That was the only day Delta had available for both my ticket (paid) and Eden's ticket (mileage award seat) on the same flight in the same class. She did give me the option of the 9th…with Eden riding up in Business Class but me in Coach!
January 18th is a lot later than we wanted to be reunited, but it does allow me time to get things sorted out with the house, van, packing, work, and all of our stuff. Its amazing how many things a woman can collect in a short 8 months in Kenya. You heard me right, none of this is mine. 😉