A couple of weeks ago we had the Smiley family reunion in Holland, MI. It was so much fun! The kids had limitless attention and got to play in the sand and the lake. Eden did a pretty good job with the potty, although she did have a couple of accidents (sorry, Heidi!). She really loved being held while jumping in the waves. She also enjoyed a long boat ride. She still talks about "Boat, Rywie, boat". Andy was a trooper and napped on the go and in a pack-n-play on the beach. He had his own special shaded resort built by Uncle Billy. It was so nice that even perfect strangers came over to check out Andy's accommodations. We've posted several pictures from the trip and will post more as others send their pictures to us.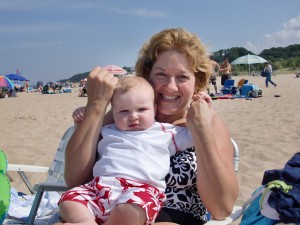 Today we ventured to the Indiana State Fair. We got there a little before 4 and it was pretty empty. We zipped through a few kiddie rides and then headed on to the food. We ate an early dinner and then checked out the pigs. Eden was able to pet one of the little piglets that wasn't scrambling for food (watching those piglets rush to their mother to eat kind of reminded me of Andy…) and then cried when we left. Fortunately, we were able to quickly find an open horse barn where she visited with several horses. THEN she got to go on a pony ride. It was really cute and she was very excited, but cried and screamed when Ben took her off of the pony. For $5 per ride she wasn't getting endulged. However, just around the corner from the pony ride was the ELEPHANT RIDE!! Eden and I both rode the elephant, which is 36 years old. She also wanted more rides on the elephant, but at $12 per ride I'm not sure she should even have had a first!
After that Eden and Ben played on a swing set and watched the parade while Andy and I visited the Lactation Station. It was the highlight of Andy's trip to the fair. Eden ate half of a bowl of baked ziti and part of an elephant ear, ice cream, applesauce, and some apple dumpling. Then we headed back to the car which took forever because the place was packed! It was sort of a cranky ending to the fair. Can anyone explain why people think it is acceptable to stop directly in the middle of the walkway to talk? It makes me crazy! I had to fight the urge to just run the double stroller right into them. Anyway, we got home and put both kids to bed. They were so tired that it didn't take long.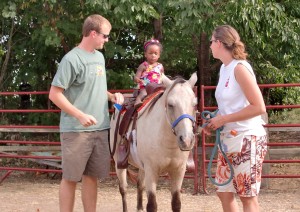 Those are both great things but the most exciting thing that happened recently occurred yesterday. Andy rolled over for the first time! We were outside and he was very interested in the grass. I scooted him away from the grass so that he wouldn't eat it and then ZOOM! He rolled right over onto his belly in the grass. We'll post the video soon.