We had an ultrasound today over at the Riley Mother and Baby Hospital. Sierra was able to see the baby's head, arms, heart beating, ribs, and legs. It was being a little difficult so it took her a few minutes to get the wand in the right position. Meghan turned a little bit and … she could say with 90% certainty that it was a boy! We're both very excited (with me being a little more so)! 😀
Sierra had no concerns; movement was good, size was good, heart was beating as expected, etc.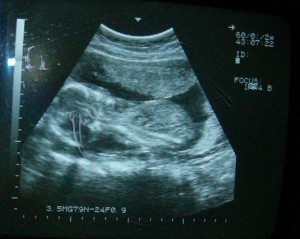 We have an appointment in 4 weeks to get another ultrasound to hopefully reduce that last 10% to zero!