So God is constantly making Himself more visible to us throughout the adoption process. He has worked in amazing ways already and today was further proof that He has a plan for our family. The day that we got Eden's passport we emailed the embassy to get an expedited visa appointment. We had not heard back from them and decided that we would make our own arrangements and plan to travel to Nairobi on Tuesday and just show up at the embassy and wait for them to see us. Ben booked our flight for 8:45 Tuesday morning (the first flight out) and a flight home for 4 Tuesday afternoon (the last flight back). I made one last ditch effort this afternoon to follow their procedures and tried to call the non-immigrant visa office in hopes of making an appointment. No one answered and so I called the American Services Center. The woman there offered to walk down to the non-immigrant visa office and see what she could find out. When she got back on the phone she told me that she needed Eden's passport info and that we needed to be at the embassy by 8 on Tuesday morning. I called Ben and we both immediately flew into action. I started packing and he called the airport. The last flight to Nairobi left at 5 and we had to be there at 4:30. Did I mention that all of this was happening at 4?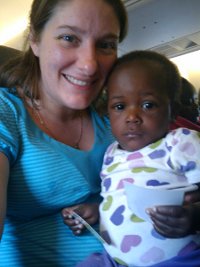 Thankfully God wanted us here at 8am and I had us packed in 10 minutes (an amazing feat considering that it took me 4 weeks to pack to come to Kenya). Ben borrowed Sam's car (again) and we drove very, very quickly to the airport. We pulled in at 4:35 and made it to the waiting area with 15 minutes to spare. Ben spent that 15 minutes booking us a room and finding transportation from the airport to the guest house and I spent it trying to calm Eden down who was suffering after getting immunized today.
The flight is only 35 minutes but Ben and I were both apprehensive since Eden already wasn't feeling well and neither of us felt like we had had time to adequately prepare for the journey. However, she did GREAT!! She sat on my lap and played the entire trip.
A few people had recommended this bed and breakfast in Nairobi called Mayfield Guesthouse. Its run by the AIM organization. Its a pretty nice house with nice people (most are missionaries), good food (almost American), a large number of rooms (20+), free internet … and then shared bathrooms. :-/ We're leaving about an hour before breakfast is served, so I'm hoping we're not waiting in line tomorrow for showers.
We'll send another update out tomorrow hopefully with good news from the embassy!