It seems like it has been a long time since we last wrote and certainly a lot has happened since the last post. A few of the highlights…
Andy started using a Bumbo.  It has already made a difference in his ability to control his body and head.  He now sits in his swing in the upright position.  He can't stay that way for too long because his head tends to flop when he gets tired, but it's a good start!  It's amazing how quickly he is growing and changing.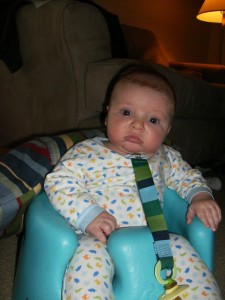 Eden is getting more and more independent and verbal.  She talks constantly (to her baby doll when no one else is listening!) and wants to be involved in everything we do.  We know that she understands more than she can communicate and has started expressing her frustration by hitting.  This has led to several visits to the 'time out chair'.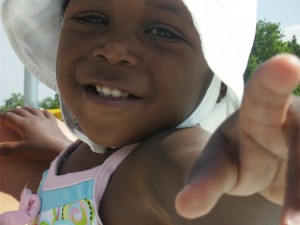 We continue to get updates and good news from our US lawyer and our Kenyan lawyer.
We have done some travel in Indiana and out.  We've been to the lake and took the kids out on a boat.  We've been to West Lafayette and played at Tropicanoe Cove and this past weekend Ben, Andy and I traveled to St. Louis for a wedding.
If you're interested in the details, keep reading!
THE ADOPTION
In order for Eden to be recognized by the US as our adopted child, we must have a local adoption completed in Kenya, and we must have joint residency and custody for 24 months.  Originally, we thought that the 24 months would all have to be spent abroad and that we would have to appear in court on September 2, 2010.  Recently we have been told that our time here in the US will count towards the 24 months!  This is great news because it means that even with the maximum time in Kenya, we would only be there for 1 year instead of 2.  Also, we are looking into acquiring an extension on Eden's travel visa.  Our Kenyan lawyer, Were, is going to request that the magistrate grant us an extension until April or so.  This would allow Eden to complete her treatment for latent TB and would give Andy a chance to get all of his immunizations for the first year.
TRAVEL
We've been very fortunate to have several opportunities for me and the kids to cool down in a pool this summer.  We've been to Tropicanoe Cove (with the help of Colin and Heidi) and have spent some time at neighborhood pools with friends.  Most recently Ben, Andy and I traveled to St. Louis for a wedding.  The family took a vote and decided that Eden would have more fun (and so would everyone at the wedding) if Eden stayed behind with Dida, Papa and Uncle Colin.  Andy was a trooper and slept almost the entire time in the car.  He swam in the pool and then posed for pictures at the Arch.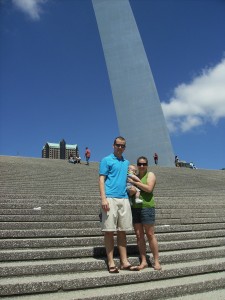 We are having a fun and busy summer and are so thankful to have time together.  We hope that you are able to find some time to relax and reflect on the blessings in your life!