Note: Some of the details about these kids lives are hard to read, but I want to be honest about the things that children at the shelter are dealing with.
I first met Miriam in 2009 at the Sally Test Pediatric Center. At the time, she was an 8 year old who seemed very special to the staff, and I noticed she spent a lot of time at the center, more than most other children. She loved Eden and would help take care of her at night when I was home. I often found her carrying Eden through the wards to the Sally Test Center in the morning when I arrived at the hospital. As I began spending more time there with Eden, I learned more about Miriam's story.
At the end of 2007, elections took place in Kenya which led to extreme violence across the country. Tribes clashed and over 800 people were killed in a little more than a month, and 60,000 people were displaced from their homes. Ben and I are proud and honored to know several people (Kenyans and Americans) that stayed in Eldoret and risked their lives to save many others. Eldoret (where we met Eden and where we live when we go to Kenya) was hit very hard by the violence following the elections. In a church, 200 people were hiding and rebels locked the doors and set the church on fire, burning between 40 and 80 people to death.
Miriam's family lived about 2 hours west of Eldoret. During the night while they slept, Miriam's home was set on fire. She and her two year old sister escaped through a window, but her parents burned to death in their home. A good samaritan found the girls and drove them to the hospital in Eldoret. Miriam's sister died shortly after they arrived at the hospital. Miriam had burns on over 80% of her body.
For two years, Miriam lived at the hospital. She had multiple surgeries at different hospitals and was cared for by the people at the Sally Test Center. She bathed there, kept her personal belongings there and was a good helper with the other children. When I heard about what had happened to Miriam, I was shocked! She had so much joy, loved to dance, was so sweet with the other kids and liked to take care of the babies that were there. I could not believe that a child who had endured so much could even have the strength to get out of bed, let alone dance, sing, carry babies and love the staff. Here is a picture of Miriam (and a boy named Collins) from 2009. This was about 1 1/2 years after Miriam's home was burned.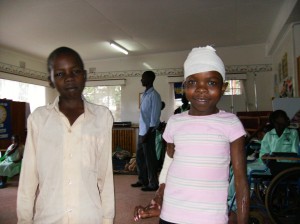 Since that time, Miriam has moved to the Amani shelter. She lives there when she's not at her boarding school and is a leader among the family that the children have created together. She is very caring and still very sweet. I was reunited with Miriam when we returned to Eldoret in 2011. The IU Compound hosts an Easter party for the children that live at the Amani shelter and that was the first time I had seen Miriam since 2009. She looked so wonderful and seemed so much more confident! I was so glad to hug her and hear how well she was doing.
I was able to see Miriam several times while we lived in Eldoret, and it was fun to see her continued progress. She is currently waiting for a surgery on her scalp that doctors hope will help her hair to grow again on the half of her head that was burned while escaping from her home. Here is a more updated picture of Miriam from the Easter party.

Miriam's school is already paid for, but if you want to help support her in other ways, such as buying her Christmas gifts, or buying supplies or food for the shelter, please email me or comment on the website and I can help you.